Home

/

Nudge Bars and Winch Bars | Airplex
Nudge Bars & Winch Bars (Bull Bars)
Use the 'Fit My Vehicle' seach to find a bar for your vehicle, or contact us for further info
Enhance the look of your vehicle while helping protect the front end from nudges, minor scrapes and scratches that all hardworking utes are in danger from on roads, construction sites and other drivers.
Airplex have a range of nudge bars to help protect the front of your vehicle and also supply and install the range of Ironman 4x4 front winch bars and rear protection bars!
Nudge Bars
- Robust and generous in size - 3" profile
- airbag certified
- spotlight mounts (most models)
- vehicle specific
- black powdercoat option availble
- stylish - enhance the look of your vehicle
- full fitting kit supplied
Front Winch Bars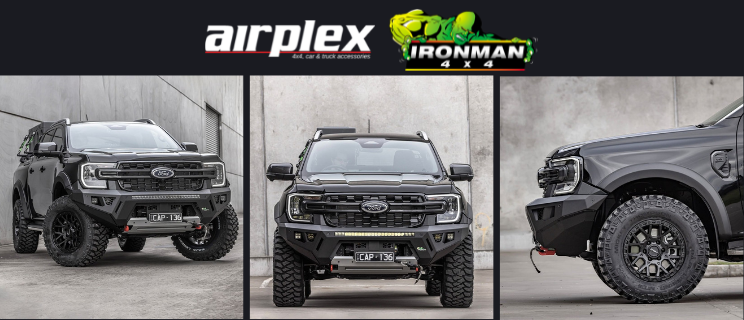 The Ironman 4x4 Deluxe Commercial Winch Bull Bar and Raid Bar
Providing the ultimate in style and protection, this popular combination is engineered to please and protect.
- Airbag / Winch compatible
- Aerial Mount
- Parker / Indicator included
- A-Frame triple loop design
- Tough polyurethane bumpers
- Driving light mount included
- Steel construction
- Winch compatible, we can supply and install winches too! For winch options, see WINCHES
Every Ironman 4×4 bull bar is carefully crafted from premium grade materials and components to deliver the most comprehensive frontal protection and styling available.Every Ironman 4×4 Bull Bar is carefully modeled using precision 3D vehicle scanning techniques to achieve optimal cosmetic design whilst providing maximum vehicle collision protection.
At Airplex, we offer a range of nudge bars and winch bars that are specifically designed to fit a variety of vehicle models. Our bars are made from high-quality materials and are engineered to withstand harsh driving conditions, including off-road adventures.
Frequently Asked Questions:
What is the difference between a nudge bar and a winch bar?




A nudge bar not only enhances the aesthetics of your vehicle but also helps to protect your bumper from minor bumps/scrapes. A winch bar, on the other hand, is designed to provide additional protection and functionality for off-road driving. It includes a mount for a winch, which can be used to recover your vehicle if it becomes stuck.
Are nudge bars and winch bars easy to install?




Yes, our bars are designed for easy installation and come with all the necessary hardware and instructions. However, we recommend professional installation to ensure proper fitment and functionality.
Do nudge bars and winch bars affect my vehicle's airbags?

Our bars are designed to work seamlessly with your vehicle's airbags, so you can have peace of mind knowing that your safety features will still function properly.
Do nudge bars and winch bars affect my vehicle's fuel efficiency?

While adding any additional weight to your vehicle can have a small impact on fuel efficiency, our bars are designed to be as lightweight as possible to minimise this effect.
At Airplex, we take pride in offering high-quality nudge bars and winch bars that provide both style and protection for your vehicle. Contact us today to learn more about our products and find the perfect fit for your vehicle.