Home

/

SteelTop® Ute Canopy
SteelTop® Ute Canopies from Airplex
Use the 'FIT MY VEHICLE' search to find the SteelTop® to suit your ute!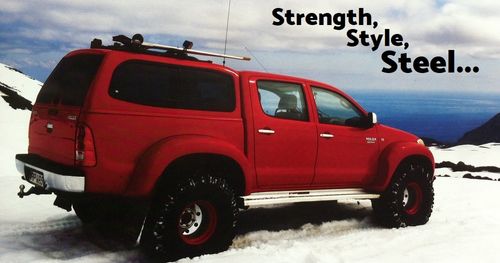 Add space and style with an Airplex SteelTop® Canopy.
To find a product to suit your vehicle, use our 'FIT MY VEHICLE' search or contact us if you need further assistance.
The Airplex steel canopy range is designed to add secure useable space to your ute. The Airplex SteelTop® Canopy, manufactured by SMM (Sammitr), is an entirely new generation of canopies that offer a range of benefits vastly superior to the conventional plastic and fibreglass ute canopy and include an impressive list of standard features.
Did you buy a ute made entrirely of plastic or fibreglass? No?, then why settle for less when selecting your canopy?
SteelTop® canopy - built as tough as
your

ute!

All our steel canopies are made from lightweight 0.8mm pressed galvanised steel panels (just like your ute!), they offer true twin wall construction with the ultimate in strength and style. This strength enables them to carry a proper load on their integrated roof-rack without the need for internal reinforcement unlike plastic or fibreglass ute canopies.

Manufactured from pressed 0.8mm galvanised steel sheet;
Electrophoretically Deposited Paint (EDP) treated;
Robotically welded for maximum strength and durability;
Painted through a colour coded baked painting process for a high quality, smooth finish.
ISO9000 certified – which ensures that only a high quality, world class steel canopy exits the production line.
ISO14001 Environmental Management Certification and the Green Label Award.

Easy access with central locking
Every Sammitr SteelTop® canopy is connected to your factory remote for central locking with your doors and tailgate. A feature you will enjoy every time you open and lock your ute!
The new V2 Executive has central locking on all sides, including the side lift windows.

• The NEW SteelTop V2 Executive style canopy. A verstile canopy that suits both work and play. Big access side lifing windows supplied as standard. Boasting central locking on all three sides. Strong and durable to take the rough stuff that your day throws at it, with easy access to all three sides. The largest side lifting windows in its class!
• The SteelTop SUV range is the ulimate crossover of ute and SUV. All the great SUV styling with the practicality of a ute. Central locking on the rear door. Strong and secure.

For SteelTop® Installation guides, Click here.
STEELTOP V2 EXECUTIVE

The V2 Executive SteelTop® is ute canopy with in a more traditional design but with all the great SteelTop features and benefits:

- Strong, lightweight Pressed Steel Construction
- Central locking on rear door
- V2 Executive has central locking on all 3 sides (lock your car and the canopy locks!)
- Roof-rack Rails (100kg load rated at motion. 200kg at standstill, great for roof tents etc)
- Baked Paint System, Colour coded
- Secure. Twin locks with single central door release on rear door. Dual locks on side windows.
- Full interior lining. Easy clean/wash. Better insulation & less condesation than plastic or fibreglass shell canopies.
- Interior light - operates off rear door.
- Internal door release
- Rear glass mounted in steel frame (much safer and stronger than frameless glass)
- Handle mounted in frame (not glass)
- Non-drip rear door
- Clear front sliding window
- Weatherproof. SteelTops don't leak!
- Integrated cover-rail between canopy and tray for professional finish (hides unsightly join common with other canopies)
- Tinted dual side lifting windows as standard.
- Optional tinted slide windows, additional cost

STEELTOP - SUV Lifestyle

The SUV Lifestyle is the latest generation SteelTop® ute canopy with ultra-smooth lines. Availble on select models only (use the Fit My Vehicle search to find yours!)

Standard features include:

- Strong Lightweight Pressed Steel Construction
- Central locking on rear door (lock your car and the canopy locks!)
- Roof-rack Rails (100kg load rated at motion. 200kg at standstill, great for roof tents etc)
- Baked Paint System, Colour Matched
- Secure. Twin rotary locking mechanism with single door release handle
- Internal Gas Strut (hidden)
- Full interior lining.
- Interior light
- Rear demister
- Internal door release
- Tinted sliding side windows
- Clear sliding front window.
- Rear glass mounted in steel frame (much safer and stronger than frameless glass)
- Handle mounted in frame (not glass)
- Non-drip rear door
- Weatherproof. SteelTops® don't leak!
- Integrated cover-rail between canopy and tray for professional finish (hides unsightly join common with other canopies)


To find produc that suits your vehicle use FIT MY VEHICLE search