Home

/

Bonnet Protector And Bonnet Guards | Airplex
BONNET PROTECTOR & BONNET GUARDS
"Biggest Range & No Minimum Order Quantities"
To find a product to suit your vehicle, use our 'FIT MY VEHICLE' search or contact us if you need further assistance.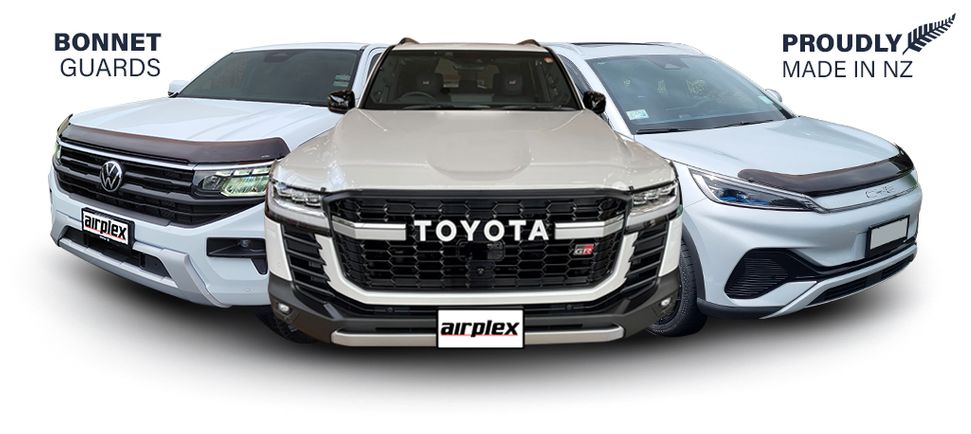 Welcome to Airplex – your one-stop-shop for high-quality car accessories in New Zealand. We are proud to offer a wide range of accessories, including bonnet guards, designed to help protect your vehicle from scratches, dents, and other damage.
Manufactured in New Zealand by Airplex. Support NZ made. All our products have a manufacturing lead time as we make them right here in New Zealand. Thanks for supporting NZ made!
Bonnet Guards are Individually styled to suit each make and model of vehicle.
All our bonnet guards are manufactured using UV-stabilised acrylic to add protection to valuable paint and bodywork. Most models are easily installed without drilling and are available in clear or dark tint colour. Select models are available in a 'graphic look' and chrome finish.
- UV Stabilized acrylic
- Stylish, practical design
- Protect body and paintwork
- Airplex manufactures the Largest range in the world!
- Market-leading design & quality
- Made in NZ
- Manufactured from high-quality UV Stabilised Acrylic
- Huge range, Old and New vehicles
- No minimum order quantity
- Replacement parts and fitting kits are available on request
For Heavy Truck Bug Guard products, see our Heavy Truck Bug Guards page.
See below for a few sample pictures of bonnet guards (old and new models).
Use our website 'FIT MY VEHICLE' search to view accessories specific to your vehicle, or contact us if you need assistance.
At Airplex, we understand how important it is to protect your car from the elements. That's why we offer a range of bonnet guards that are specifically designed to provide protection against stones, bugs, and other debris. Our bonnet guards are made from high-quality UV stable materials that are durable, long-lasting, and designed to withstand the toughest conditions.


Our bonnet guards, also known as bonnet protectors, are crafted from durable, high-quality UV stable materials to ensure longevity and maximum protection. Whether you drive a ute, truck, or car, we offer a wide range of options to fit your specific make and model. From sleek and subtle designs to more rugged and aggressive styles, we have something to suit every preference and budget.
Don't let scratches, dents, or debris harm your vehicle. Choose Airplex's bonnet guards for the ultimate protection and style. Browse our selection of bonnet protectors today and find the perfect one for your vehicle.
We make it easy to install our bonnet guards, and our custom designs ensure a perfect fit every time. In addition to our bonnet guards, we also offer an extensive selection of other car accessories, including bull bars, side steps, and roof racks, all made with the same high-quality materials and attention to detail.
We are dedicated to providing the highest level of service and support to our customers, and we offer a variety of shipping options to ensure fast and safe delivery. If you're in the market for a bonnet guard or bonnet protector for your vehicle, look no further than Airplex. Our durable, stylish, and affordable options will not only protect your car, but also enhance its overall look and feel.